Riccardo Del Fra studied at the Music Conservatory of Frosinone where he was taught by the likes of Franco Petracchi and Franco Noto. Very rapidly he started performing in jazz concerts and recordings with the RAI Orchestra of Rome. He appeared with a variety of Italian musicians and becoming more and more in demand, he started accompanying a large number of jazz soloists (Art Farmer, Dizzy Gillespie, Art Blakey, Sonny Stitt, James Moody, Lee Konitz, Tommy Flanagan, Kai Winding, Clifford Jordan, Horace Parlan, Joe Diorio, Kenny Wheeler, Paul Motian, Dave Liebman, etc.) and was the bassist for various bands (Barney Wilen, Bob Brookmeyer, Johnny Griffin, Toots Thielemans, Michel Herr, Charles Loos etc.).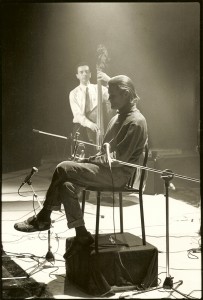 At the end of 1979 came the decisive meeting in Rome with the trumpet player Chet Baker. Riccardo Del Fra played alongside Chet for about nine years both in Europe and Japan on tours, for the radio and for the television; a collaboration which led to the recording of twelve albums, videos (Live in London at the Ronnie Scott) and the movie Chet's Romance directed by Bertrand Fèvre.
At the beginning of the 1980s Riccardo Del Fra settled in Paris where he joined a very active rhythm section with the pianist Alain Jean-Marie and the drummer Al Levitt, while at the same time continuing to play with Chet Baker and the pianist Michel Graillier.
In 1989, Riccardo Del Fra paid homage to Chet Baker by dedicating to him his album A Sip of your Touch*, a series of duos with Art Farmer, Dave Liebman, Enrico Pieranunzi, Rachel Gould et Michel Graillier (Grand prix Fnac 1989).
In the 1990s the trombone player and composer Bob Brookmeyer invited him to join his quartet. They toured together and recorded the CD Paris Suite (which won the Prix de l'Académie du Jazz in 1994). Much more than a jazz musician, Riccardo Del Fra is eclectic and open. He explores and enjoys all contemporary music.
In 1992 he composed Silent Call, a piece for string orchestra and jazz quartet with the saxophonist François Jeanneau for the Paris Jazz Festival.
In 1996 he turned his talents to traditional music. His meeting with the Breton singer Annie Ebrel gave birth to a very special duo and the creation of Douar Glizh at the Theatre of Quimper, followed by the recording of the CD Voulouz loar – Velluto di luna, acclaimed by the Monde de la Musique and awarded the Diapason d'or of 1999.
In September 2004 Riccardo Del Fra was named head of the department of Jazz and Improvised Music at the Conservatoire National Supérieur de Musique et de Danse de Paris. The willingness to remove divisions and to widen the field of action and interaction were at the heart of his work at the conservatoire (as in his own music), where he wished to open windows, forge links and encourage exchanges between "the many worlds of jazz and the many worlds of classic and contemporary music" as well as collaborations with other disciplines of the CNSMDP, such as dance, for example.
The album Roses and Roots not only bears witness to the pleasure of working, but also to the search for new sources of inspiration – with the young musicians from the CNSM…(with the exception of course of Joey Baron).

In 2003, Riccardo Del Fra was named Chevalier de l'Ordre des Arts et des Lettres by the Minister of Culture and Communication, in 2014, he was promoted to the rank of Officier de l'ordre des Arts et des Lettres. In November 2006, Riccardo Del Fra was awarded the prestigious Django d'or (confirmed musician) and in 2008, the Prix du Musicien Européen de l'Académie du Jazz.
In 2009, the Ensemble Intercontemporain – renowned as one of the best ensembles of contemporary classical music since its creation, in 1971, by Pierre Boulez – commissioned Riccardo Del Fra the composition of two works that were created in March of that year by the Ensemble conducted by Susanna Mälkki with Dave Liebman au saxophone : Sky Changes and Tree Thrills. These pieces have been played again in October 2010 in New York at the Manhattan School of Music, also with Dave Liebman on saxophone.
In 2011 he played in Paris, Italy and Germany in trio with the sensitive pianist Marc Copl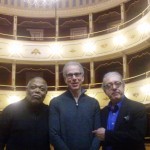 and and the legendary master Billy Hart.
Riccardo Del Fra's current projects as a leader are :

My Chet My Song
In August 2011, the festival Jazz in Marciac commissioned him to conceive and write a tribute to Chet Baker, My Chet My Song, with Roy Hargrove on trumpet, Pierrick Pedron on alto sax, Bruno Ruder at the piano, RDF on bass, Billy Hart on drums and the orchestra of the Conservatoire de Toulouse. With this homage to Chet Baker, recorded by the TV MEZZO, Riccardo Del Fra has conceived, arranged and composed to create a resonant world where the standards get a particular thickness and a new velvety smoothness thanks to an orchestration where the voices – jazz and classiques – meet, in a silky, fluid and luminous shiver.
The project became a quintet/quartet/trio and it is touring successfully in Europe. In 2013 it has been invited amongst other festival to the Berlin Jazz Fest, afterwards Riccardo Del Fra recorded My Chet My Song with with Pierrick Pédron, Airelle Besson, Bruno Ruder, Billy Hart and the renown Filmorchester Babelsberg.  The CD has been released in September 2014 on Cristal Records and in May 2015 also on the Italian label Parco della Musica. The project is presented in concert with formats from trio to quintet and to quintet with symphony orchestra.
Open Book
With his project Open Book, Riccardo Del Fra writes a new chapter of his own book. He takes on board his listeners to a magnetic and oneiric musical voyage where apparently simple melodies and compositions of chromatic richness embrace each other with elegance and subtlety. The experience of mixing French and German musicians has been very fruitful. He will continue and extend this idea of partnership through the concept of mixing generations, choosing players who are open to different approaches – going from tradition to contemporary idioms.
Hoffnung
Riccardo Del Fra's latest project Hoffnung – Espoir – Nadzieja has been presented for the first time in the castle Genshagen (near Berlin) on November 3, 2016. He wrote the music for this German-French-Polish project in cooperation with the Foundation Genshagen. After further concerts in Paris and Wroclaw, Riccardo Del Fra received an invitation for a concert in the Italian Parliament. On March 19, 2017 the quintet played in Palazzo Montecitorio within the festivities of the 60th anniversary of the Treaties of Rome, celebrating Europe and adding another country to the project : Italy, with Speranza.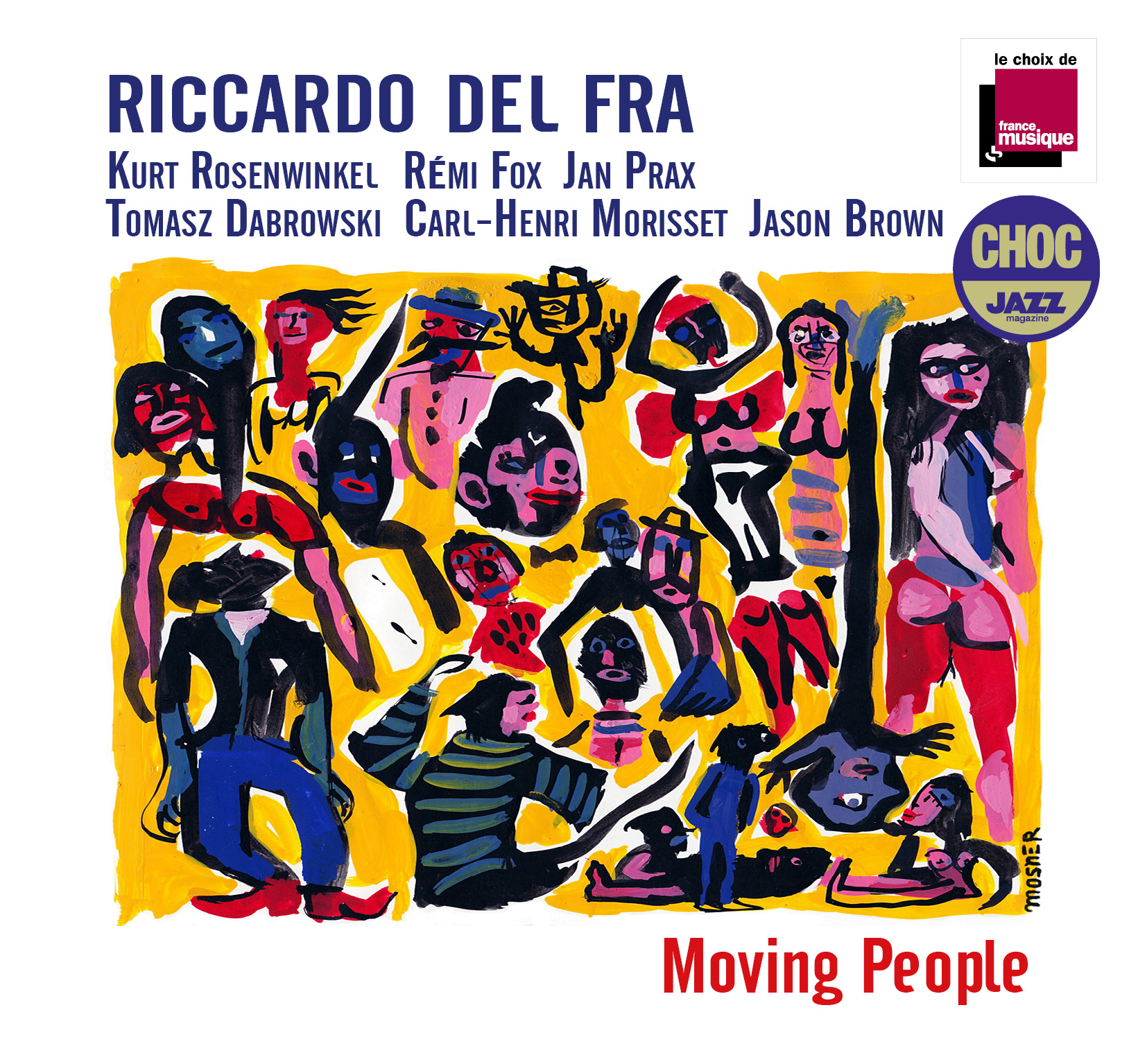 Moving People
After several tours in Europe, Riccardo Del Fra recorded his recent compositions on the album Moving People, released on October 2018, featuring Kurt Rosenwinkel, special guest on guitar, Tomasz Dabrowski on trumpet, Jan Prax and Rémi Fox on saxophones, Carl-Henri Morisset on piano, Jason Brown on drums and Riccardo on double bass. Hoffnung was the genesis of Moving People, which has become a band with players from many parts of the world, representing different generations and playing a music inspired by the motion and the emotion.                      
"The movement of people, the humankind – in its vulnerability as well as in its phenomenal life force – the "Other" that moves us. It's about empathy." All that is the heart of the project "Moving People".
The album Moving People is released on Cristal Records (CR 276) and is distributed by Edel. It has received the award "Choc" by Jazz Magazine and the partnership of Radio France Musique.