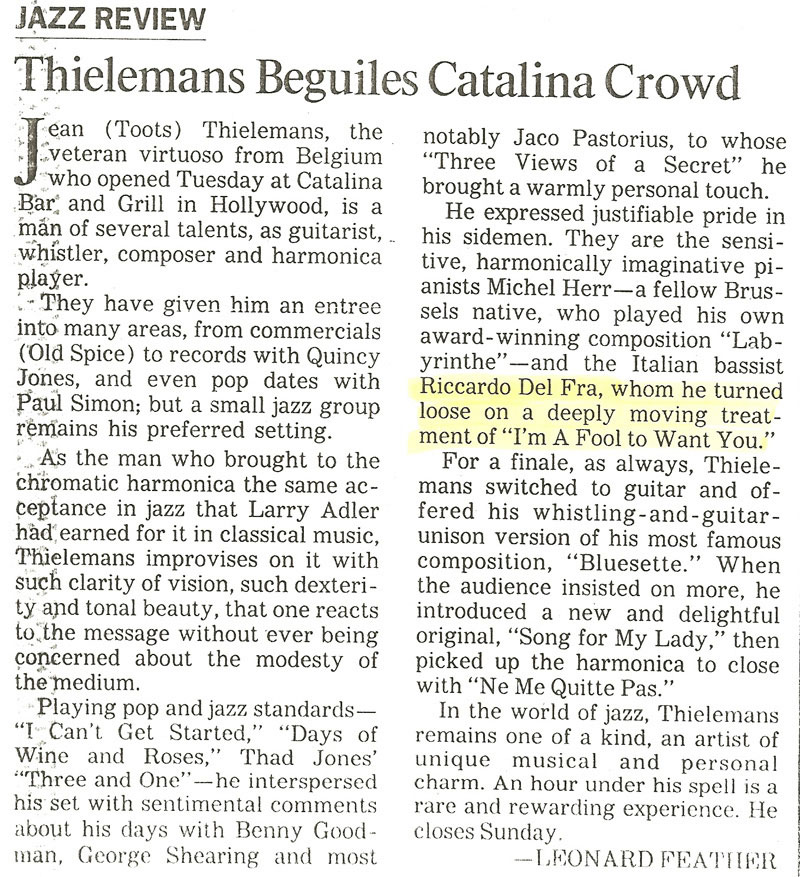 New York Times Review   A. O. Scott
february
13, 2004, Friday
The Trilogy (Lucas Belvaux): After the life
Music by Riccardo Del Fra
(Universal – La Bande Son – LC 073 40 / 2002)
« All three films were scored by Riccardo Del Fra. In this case, he finds just the right melancholy tone, a deep, cello-laden sound at once lush and austere, to bring out Agnès and Pascal's torment. Ms. Blanc, with her wide eyes and high forehead, has an air of damaged, heartbreaking innocence; you can see that Agnès's youthfulness has been preserved by her drug use, and also corroded by it. Mr. Melki moves with feline quiet, the long, downturned features of his face poised on the edge of either sleep or rage»
The Guardian  

John L Walters


Friday August 19, 2005
Fancy a trip to the Jazoo?
Roses and Roots by Riccardo Del Fra
(Nocturne – NTCD 373 / 2005)
Jazoo Project is an impressive calling card for the Italian composer/bandleader, perhaps better known as a sideman for visiting and expat Americans (Chet Baker, Johnny Griffin) in Paris and Rome. The album has ideas, good playing and decent tunes. Del Fra's melodies exhibit the sleight of hand all good jazz composers need, a way of insinuating themes into the musicians' subconscious (and consequently the listeners'). Each of the 11 tracks differs from its neighbour, and never outstays its welcome. Timbres range from elegantly acoustic to robust and electric, featuring some fine sax and brass players alongside eloquent pianist Bruno Ruder and a string quartet (for two tracks only).The rhythm section swings in a spacious, clear-eyed manner -perhaps a "morning" sound rather than a late-night one – thanks to exemplary drums and bass from Joey Baron and the leader. However this is a project where the composer's personality outshines individual improvisers. It would be tempting to call it "chamber jazz", except that the term implies something more Nordic or classical (or both). Since this is principally a French-Italian-American project, there's a little more olive oil in the dressing. And when there's some grit in the groove, as in Riff Goes Rive Gauche, there's room for saxophonist Sylvain Rifflet to get down and dirty. Autour de la Tour is a delightful waltz with a touch of Brit-jazz; The "A Priori Thing" is a bracing workout for guest guitarist Jean-Philippe Muvien; Wayne's Garden evokes the era of Miles in the Sky; the Ornette-like Roots Routes features just bass and drums. I can imagine Jazoo Project going down a storm at festivals, with the time and space to develop the implications of Del Fra's subtle charts. The album closes with a relaxed "third stream" piece, a Takemitsu dedication for string quartet, bass, piano and soprano sax called Toru's Dream. I found Roses and Roots by happy chance while going through a big pile of CDs.